An Island Adventure
Michael L.
This last summer, I got the opportunity to go to a summer camp on Catalina Island and do a lot of awesome things that I had never done before with my best friends. A couple of the things were cliff jumping, swimming with sharks, and eating some great tacos.
In July, my Boy Scout Troop met in a small church here in Windsor. It was a pretty nice day and we were all excited to go on this big trip. The 11 of us all stood next to our various drivers waiting to get going to Denver International Airport. We all took pictures with our families, loaded up the cars, said our goodbyes and then headed to Denver International Airport around lunch time.
We got to DIA around 1ish, got to our terminal and got lunch. We then waited for our flight and boarded the plane. This wasn't my first time on a plane so I was looking forward to taking off and feeling the extra g-forces from the acceleration of the plane. I was sitting next to two of my best friends, Tanner and Nate. Tanner had a couple of episodes of "The Office" downloaded onto his phone so we watched that for a while and then I tried to sleep for a little bit. After a while the beverage cart rolled by and i had a good idea. I asked if I could get some margarita mix and to Nate's, Tanner's, and my surprise they said yes. It was pretty good and tasted like sweet lime juice.
We few over a very beautiful river which I think was the colorado river. It was beautifully blue and clear. When we landed at LAX we got our bags and got on to a shuttle to go to the hotel. On the way there we started to count the number of Priuses that we saw and stopped counting around 60. I thought that this was pretty funny because I have always lived in smaller towns and had never seen so many of the same type of car before. We even started speculating that the herds of "Prius-es", should be called a Pria (Pree-eye) for the plural form of the word Prius.
When we got to the hotel we unloaded all of our gear from the shuttle, went to our rooms, got everything all set for the rest of the day, then got our swimsuits on and went to the pool. Most of that night I couldn't believe that we were actually on this trip. The whole point of it was to have a fun time and I could not wait to get it started. All 11 of us boys swam until dinner which we just ordered pizza and ate at the pool. That night there was a Star Wars marathon going on tv so we watched that for a little bit in the other peoples room. In my room it was Nate, Adam, Tanner and I.
The next morning we woke up at six to get on the ferry to go to the island. We got up, packed our stuff, and met everyone else downstairs where we ate breakfast. After some good hotel waffles we got onto a shuttle bus and started on our way to the ferry. When we got to the port we unpacked our bags from the car and made our way over to the boarding deck. We sat there for what seemed like an hour watching a couple of other ferries take a bunch of eager Boy Scouts to the island about twenty miles away. After our troop got called we picked up our bags and boarded the ferry. Once we were on we put all of our bags in the cabin and headed to the deck. We sat there for two hours alternating between leaning over the edge to get splashed with sea water, trying to stay standing upright as we hit small waves, and just sitting there waiting.
Once we got to the island we all grabbed a random bag and headed to the mess hall that was right at the beginning of camp. After we got everybody's bags we listened to the camp manager as he told us what all of the schedules were and where everything was. Then we all met up with the guides for whatever activity we were doing that week. Our two guides/counselors were named Sulter and Aiden. They explained to us what all we would be doing for the rest of the day and week. He said that we were going to meet at the dock to do a swimming test. The test wasn't very hard and i got through it pretty quickly.
After that we had lunch and a bit of free time before we met back down at the water to go over the different ore strokes, scenarios, and canoe details. While we were doing that there were some lemon sharks that were swimming around and so I swam with them. After that we had some free time before dinner and then hung out a bit afterwards while setting up our one night camp. Tanner and I decided not to set up a tent because we would be leaving in the morning. All we did was put a tarp on the ground and slept on our sleeping pads. After setting up camp we went to the opening campfire, which was full of skits, rules, songs, and fun. The next morning we woke up, packed every thing that we would need for the trip, got breakfast then headed out on the first leg of this trip.
The first day on the water we canoed 15 miles to a small town called Two Harbors. The trip there was cool. We saw a couple of schools of anchovies and canoed through a bunch of kelp. We also rounded the northern corner of the island to get to Two Harbors. When we got to Two Harbors we hiked a little bit to our campsite which was a public camp so there were PortaPotties and pavilions. After we dropped our gear off we went back down to where we landed the canoes and had lunch, which was chicken quesadillas. I had an idea to try grilled kelp after everyone else was done using the grill. Nate and I first let them dry in the sun for a little bit and then we grilled them for a little bit. It tasted like seaweed wraps and there was some salt from the evaporated sea water. After all of that I tried to go fishing with the tackle that I had brought and some lures that I had just bought at a local general store. What sucked though is that there was one little screw missing from the bail of the reel so the bail fell of and could not put the line back on the reel. After all that we went back up to the camp site and set up camp. Tanner and I slept on the ground again and Adam and Nate slept in there hammocks. That night we all watched "The Office" on Tanners phone. Then we all laid down to sleep. I loved hearing the ocean so close to us that it quickly lulled me sleep.
The next day when we woke up, we went to a little restaurant called Harbor Reef Restaurant. For breakfast I had a Redbull and some biscuits and gravy. Now these liberal biscuits and gravy were absolute trash. The biscuits were small and the gravy was a weird brown color and had very little liquid or sausage, not "like mama makes 'em". But I still ate them because I was hungry. That day was really nice because we left around 9 and got to the next campsite, Shark Harbor, around 11 where we met another group of scouts who biked there. We knew a couple of boys in that group who were also from our troop but didn't want to do the canoeing. This was my second favorite spot because after lunch and setting up camp, we went down to the water and I snorkeled for a bit and then we all went into the next bay over which had HUGE waves that we would jump into and body surf on. The biggest one that we saw was about 11 feet high which I body surfed "LIKE A BOSS".
After messing around in the waves for a little bit a couple of guys went to the top of a small 20ft cliff and jumped off. It was against camp rules to do it but all of us and the guide said that we would not mention it or just call it "High altitude water entry". It was a lot of fun, I did it twice. The sketchy part was getting yourself to jump and the path to the jumping spot which had a dirt incline of about 45 degrees. Needless to say, it was hard to stay on when your feet when they are wet, but I did not fall off the cliff.
Once, I was one of the only ones left I grabbed my stuff and went back to the campsite and hung out with everyone until a wild buffalo walked right through camp. It walked right next to where Tanner was sleeping. Then Nate, Adam and I just kept hanging out and talking with a kid that we had met named Colby. He was from Nevada and we really liked hanging out together and cracking jokes. Once dinner rolled around we all huddled around Sulter while he cooked us hamburgers, and after a while Nate took over as the cook. While waiting we discovered that mayonnaise and American cheese slices are pretty good together. Or maybe we were just hungry.
After dinner we all circled up and sat on the ground to do a thing called "Roses, Thorns, and Buds" which was essentially to tell the group what you liked about that day, what you didn't like, and what your looking forward too. We did that every night. Then we all went to sleep and Adam let me sleep in his hammock which was a lot better than the ground.

The next morning we woke up at 3:00 A.M., broke down camp and loaded up the canoes to go 16 miles to the big town on the island called Avalon by lunch. I was able to get a thing of cookies into my bag from the snack bag before we left. While we were getting the canoes into the water a wave came out of nowhere and flipped one of the canoes in the dark. Luckily the only thing that was lost was a flip flop. The rest of the canoes went into the water without any problems. I could not believe trying to get out in the other bay in the dark with the huge waves. On the way out of the harbor we saw a SpaceX rocket launch which was awesome. Another thing that happened on the way out of the bay was that on a different canoe Colby was complaining to his dad and then all of a sudden a fish jumped out of the water and hit him on the back of the head and Colby thought that it was his dad. The rest of the trip consisted of counting the number of strokes that we did (which averaged out to be about 4,200 strokes a mile), singing random songs, peeing in the water, and one fight about people being lazy and wanting cookies. The worst part of the day was seeing a quarry and thinking that we were almost there but there was still 2 miles to go. Adam kept an orange in his pocket and it was rubbing against his leg the whole trip so he had a big blister patch on his leg. Once we got to Avalon we unloaded the canoes and loaded all of the gear onto a truck then hiked a mile up to the campsite and on the way we saw a little restaurant called The Sand Trap which had 3 tacos for $1 as happy hour every day from 2 P.M. to 7 P.M. Once we were up at the campsite we set up camp and I slept in Adam's hammock again. Then we wanted to go down to the main city part but i had forgotten my wallet in my bag which i also forgot back down where we loaded the truck. So we walked down there and looked around for a while and then went to The Sand Trap and had some really good tacos. Once we were back at camp took a little nap on the park bench and then Nate, Adam and I hitch hiked down to town and walked around all of the stores and shops. I bought a pair of American flag sunglasses, a hold my beer and watch this shirt, a neon fanny pack, and a magnet for my grandma. Then we got some pizza from a really good pizza place for dinner, stopped one more time at The Sand Trap, then hitch hiked back to camp. While we were gone, we were told that a deer jumped right over Tanner while he was sleeping. Then we did our Roses, Thorns, and Buds, and went to sleep.
The next morning we packed up and headed back on the water for an 8 mile trip to Goat Harbor. I don't remember anything of that trip but when we got there we pulled the canoes up on land, set up camp and had lunch. Then we met the other group again and they canoed there from the main camp in Emerald Bay. I went snorkeling in the clear water and grabbed a bunch of cool shells. Then I saw a bunch of people cliff jumping off of a bigger 40 ft cliff. I climbed up it as fast as I could and waited in line a bit and then stood at the edge smiling out of nervousness. Then as I jumped I begin to think of what could go wrong. You know that feeling that you get when you are falling in a dream, well it was exactly like that accept a lot more intense. I ended up jumping 4 times before we got out of the water and just hung out. The three other memorable parts was watching The Office on Tanners phone again, Colbe carving a sign and giving it to aiden, and I climbed up onto the side of this other cliff and sat 10 ft up there for a while before getting down faster than I wanted to. I was climbing down when I grabbed onto some dirt that i thought was rock then fell onto Tanner's brother's air mattress, that popped a small hole in it and causing Tanner's brother was freaking out about it. Then we had hamburgers for dinner, did our Roses, Thorns, and Buds, and went to sleep.
The next morning we woke up at 3:30 A.M. and packed the canoes one last time for the last 8 mile leg of the trip. The only part of this leg that I remember is seeing Emerald bay and being in the bay. I said "LUDICROUS SPEED, GO" and I paddled extremely fast until we finally got back to camp. We unloaded the canoes and took our gear to our campsite. After we set up camp for the final time Nate, Adam and I went to the trading post and got some Mexi-Cokes and Jarritos. Then as a requirement to get the 50 mile patch we did a service project pulling weeds from the landscape. Then we decided to go shoot shotguns at the range that they had, the guy that was running my lane looked exactly like my dad but with longer hair. When it was my turn to shoot the clays I didn't miss a single one. I did so good that the guy running it loaded up 4 shots into the semi auto shotgun and told me to pull the trigger as fast as I could and I had a great time. After that, we hung out at the trading post for awhile, then Sulter had us all take a short hike to a little hill where he gave us special neckerchiefs that said "Rugged C" on them and did our final Roses, Thorns, and Buds. Then after dinner, which was mahimahi because Sulter though that he screwed up the meals for the trip but it was still good, we went to the closing campfire. It too had the skits, songs, and fun and at the end the camp director thanked us all for being there and then we went back to camp and went to sleep.
The next morning we packed up camp for the final time and brought all our gear to the mess hall after breakfast. We then all loaded up on the ferry just as we did on the way to the island. On the way back we all sat there exhausted until we got back to the port where we had left from. Then we got all of our gear and went to some benches and dropped our gear off there. We then had one Scoutmaster watch it while we toured the battleship U.S.S. Iowa which was really cool. My favorite part was seeing the big guns on the front of the ship. In the gift shop, I bought some dog tags and some space ice cream. Then we took an Uber back to LAX and in the terminal I got lunch and a pound of candy half of which got eaten by someone. We boarded the plane around 6 P.M. and this time I sat next to Blaine and Ethan. I tried to get margarita mix again but the guy with the beverage cart said no. The only thing that I remember on the plane was Ethan making his brother pay him $50 to not tell his parents about a party that he had while his parents were gone and messing with the people in front of us. Once we landed back at Denver International Airport everyone but me grabbed there bags, mine was in the oversized place. We got a shuttle back to the parking lot and then loaded up the cars with our gear and finally got back to the church around 12 A.M.. I was exhausted but happy to be home.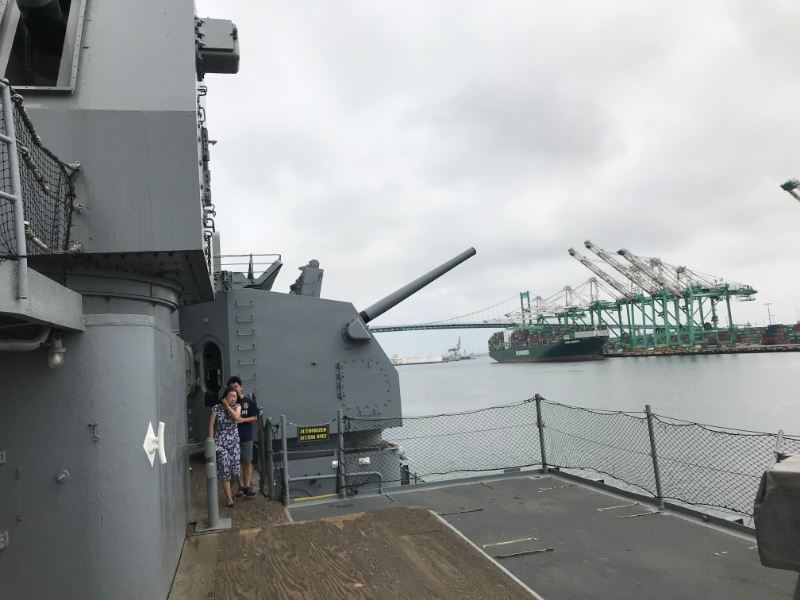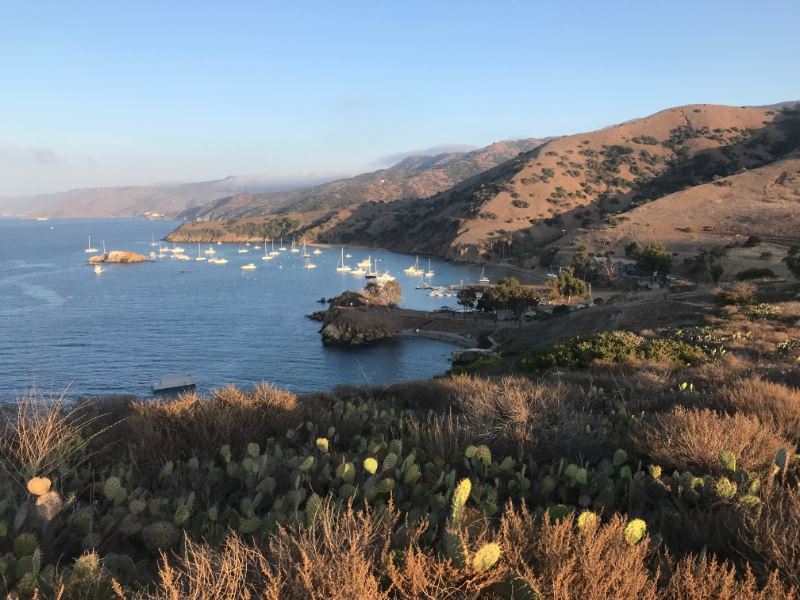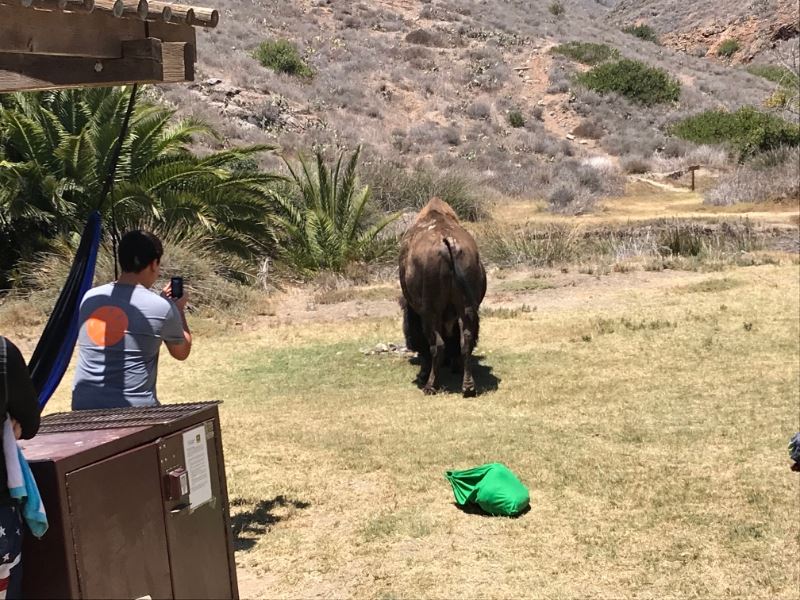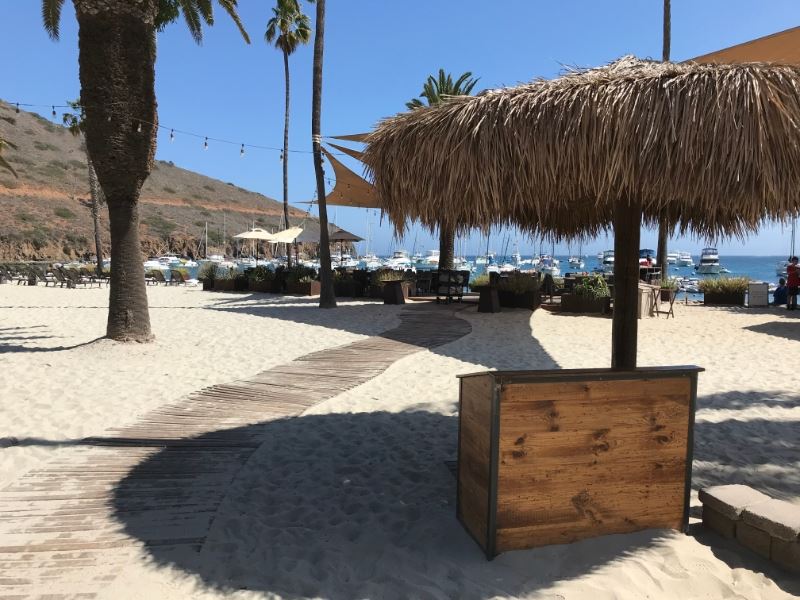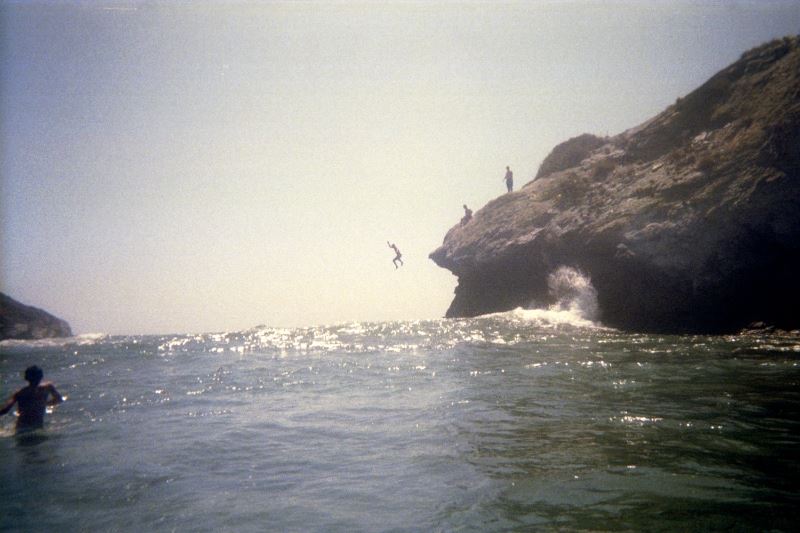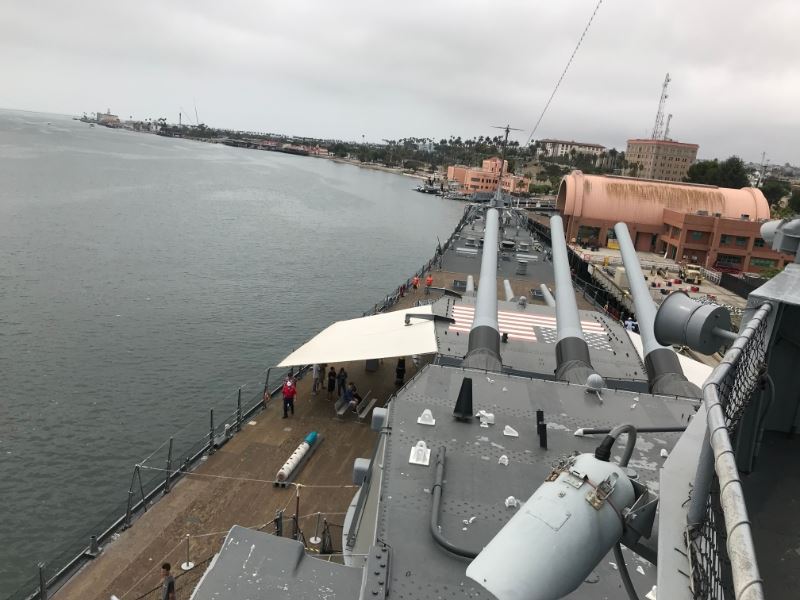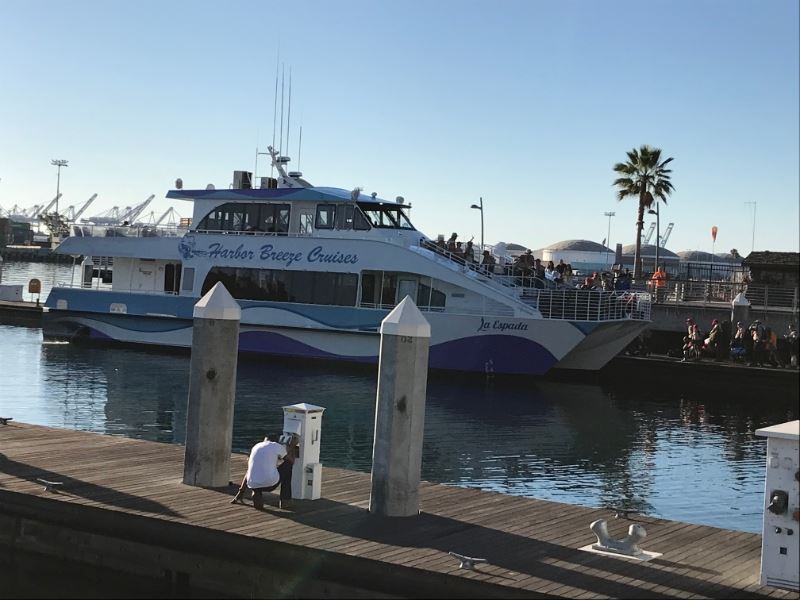 I will always remember this trip. I had so much fun and had a lot of experiences that not a lot of people have had. Like cliff jumping, swimming with sharks, or canoeing 50 miles around an island. I really hope that i can take a trip similar to this with my friends sometime in the future. I have always loved the ocean and having awesome experiences with my friends and this was another thing to add to the list.